Keep sensitive data secure with new AI-powered Gmail confidential mode. G suite has been to help companies transform the way they work with the suite of cloud-based collaboration and productivity apps. G suite announcing the major updates to help more than 4 billion paying businesses that use G Suite work safer, smarter and more efficiently.
This includes an all-new Gmail, with a brand new look on the web, advanced security features, new applications of Google's artificial intelligence and even more integrations with other G Suite apps.
Data security is the top priority of every business.
Gmail introduced new phishing protections to help address Business Email Compromise (BEC) threats—or when someone impersonates an executive to get sensitive information. With these new protections, Gmail has helped block 99.9% of BEC attempts by warning users or automatically moving messages to spam for them.
Keep sensitive data secure with new Gmail security features
With confidential mode, it's possible to protect sensitive content in your emails by creating expiration dates or revoking previously sent messages. Because you can require additional authentication via text message to view an email, it's also possible to protect data even if a recipient's email account has been hijacked while the message is active.
New confidential mode in Gmail lets you set expiration dates for sensitive information.
Built-in Information Rights Management (IRM) controls also allow you to remove the option to forward, copy, download or print messages. This helps reduce the risk of confidential information being accidentally shared with the wrong people. Confidential mode will begin to roll out to consumer Gmail users and a limited number of G Suite customers in the coming weeks (broader rollout following).
Stay on top of email effortlessly using artificial intelligence in Gmail Confidential Mode
New AI-powered features in Gmail, like Nudging, Smart Reply and high-priority notifications, can now help you spend more time on work that matters.
Most of us get more emails than we can deal with at one time, and sometimes things slip through the cracks. With Nudging, Gmail will proactively remind you to follow up or respond to messages, making sure you don't drop the ball.
Now Gmail will intelligently (and subtly) "nudge" you when you need to prioritize actions in your inbox.
Gmail's new easy-to-use interface and built-in intelligence enable our employees to collaborate faster and smarter.
Jo-ann Olsovsky
EVP, CIO of Salesforce
Accomplish more from your inbox with easy-to-use tools
Gmail web application can help you to take action even quicker. Now you can see and click attachments in your inbox before ever opening a thread. You can also hover over messages (you don't have to click into them) to do things like RSVP to a meeting invite, archive an email thread or snooze an email until the time is right.
Gmail's new design helps you take action quicker.
Now you can quickly reference, create or edit Calendar invites, capture ideas in Keep or manage to-dos in Tasks all from a side panel in your inbox.
The side panel also makes it easy to access Gmail Add-ons, too, like third-party business apps you might use. This way you don't have to switch between tabs or apps to get work done. You'll start to see the new side panel integration in other G Suite apps in coming months—like inside of your Calendar, Docs, Sheets and Slides apps.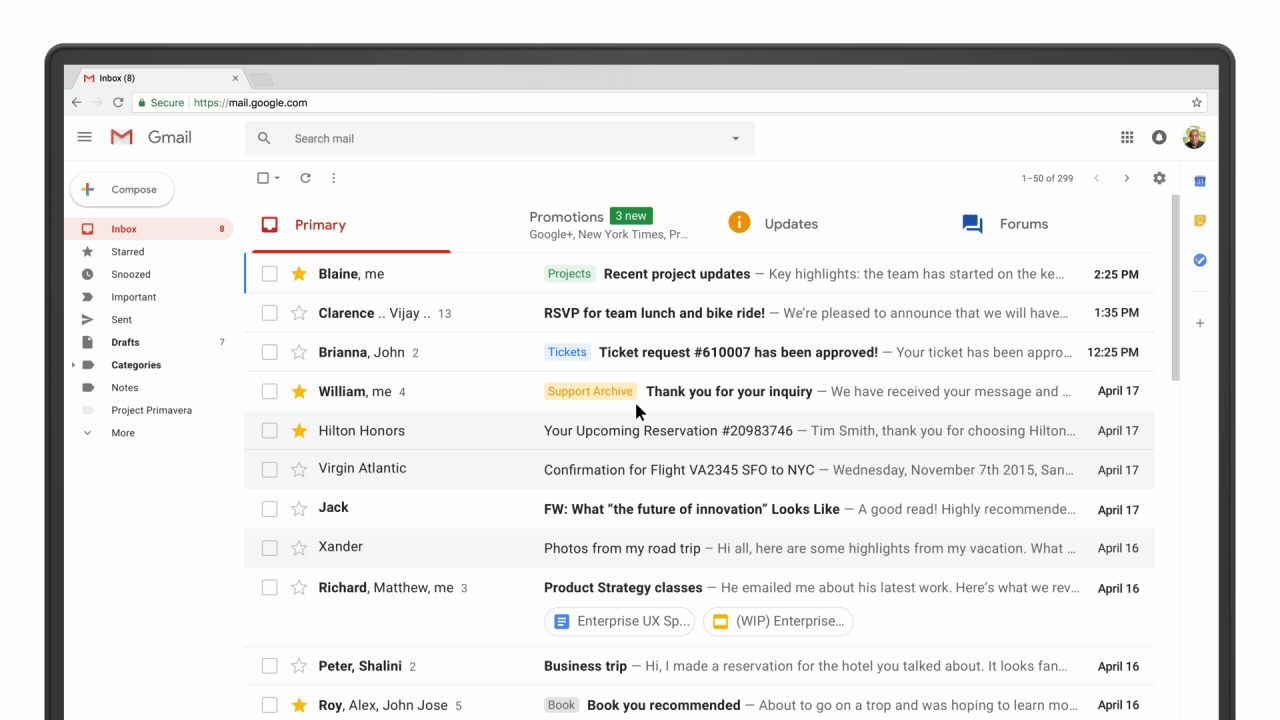 New native offline capabilities in Gmail on the web can help you work without interruption when you can't find Wi-Fi. Search, write, respond, delete, or archive up to 90 days of messages, just as you would working online, but offline. Teams can start using offline capabilities in coming weeks.
Conclusion
The all-new Gmail experience is available for businesses to start using today in the G Suite Early Adopter Program (EAP) and can be turned on in the Admin console. Read more detail on how to turn on the experience in this post. Heads up: you'll start to see offline support, confidential mode (limited release), Nudging, high-priority notifications and unsubscribe suggestions appear in the coming weeks.